Ever found yourself caught in the rough trying to find the perfect gift for that golf lover in your life?
Tired of resorting to the same old golf balls or glove sets, but still hoping to stay in the fairway of their passion? Well, don't worry; we've got you covered! Let's tee off with a unique and thoughtful gift option that you might not have considered — a golf calendar.
Yes, you heard it right, a golf calendar!
And it's not just any calendar; it's a golfer's daydream neatly bound in a year-round companion. The golf calendar is the ultimate hole-in-one gift for every golfer, and we're here to share ten compelling reasons why!
Captivating Golf Course Photography
When you gift a golf calendar, you're not just gifting dates and days — oh no! — you're gifting a visually stunning tour of some of the world's most iconic golf courses. Each month unfolds a breathtaking view that transports golfers from their living room to
the greens of St Andrews,
the hills of Augusta National,
or the seaside cliffs of Pebble Beach.
Just imagine your golfer's delight as they gaze at these luscious landscapes, dreaming of their next great game.
It's like a golf vacation every month without leaving the house — or swinging a club!
Seasonal Golfing Tips & Tricks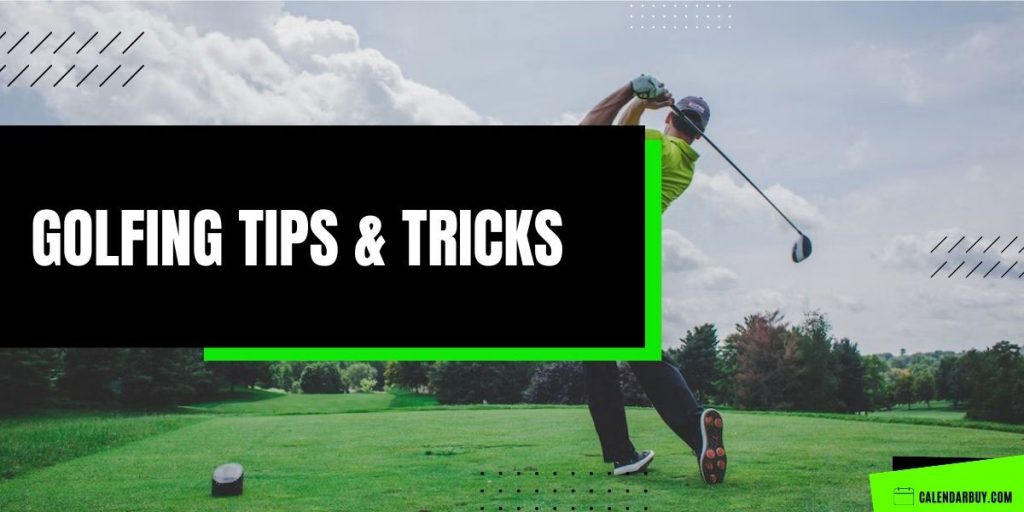 As if the magnificent images weren't enough, these golf calendars also come chock-full of seasonal golfing tips and tricks. Think of it as a caddy that hangs on your wall — a source of wisdom and insights to help golfers
improve their swing,
master the putting green,
or tackle tricky bunkers.
It's like getting a lesson from a pro every month! The calendar delivers practical advice and value that last throughout the year, and beyond.
Notable Golfing Events and Tournaments
What golfer doesn't love a good tournament, right?
With a golf calendar, your golf aficionado will always be in the loop of major golfing events and tournaments. Whether it's the Masters in April, the U.S. Open in June, or the Ryder Cup — the golf calendar marks it all!
Now, they can
plan their golf outings,
organize watch parties with fellow golf buddies,
or simply enjoy the thrill of these grand golf events from the comfort of their couch.
It's like a golfer's social assistant—only without the need to pay an hourly rate!
Historical Golfing Facts and Trivia
These calendars come loaded with nuggets of historical golfing facts and trivia that will
entertain,
educate,
and impress even the most ardent golf fans.
Golf is a sport steeped in tradition and history—and learning about it can enrich the appreciation of the game.
Who hit the longest drive?
What's the record for the lowest 18-hole score?
Which golfers have achieved a career grand slam?
It's like a mini-golf encyclopedia that reveals a new secret each month!
Motivational Quotes from Golfing Legends
As an added fairway feature—these golf calendars are sprinkled with motivational quotes from golfing legends.
Inspirational pearls of wisdom from the likes of Jack Nicklaus, Arnold Palmer, or even the current maestros like Tiger Woods and Rory McIlroy can provide that much-needed push both on and off the course.
After all, golf isn't just a sport; it's a metaphor for life—And who can resist a little pep talk from the greats?
Unique Monthly Themes
Jazzing up the appeal are unique monthly themes related to golf. Whether it's "Golf and Nature" in June or "Golfing Traditions" in December, each theme adds excitement and depth to the golfing journey. It's a thematic exploration that keeps the love of the game fresh and engaging all year round.
Personalization and Customization Options
To make the gift even more special, there are plenty of personalization and customization options available. Whether it's
adding a photo from their hole-in-one moment,
marking the date of their annual golfing trip,
or perhaps including their favorite golf quote,
these personal touches can make the calendar uniquely theirs.
Now that's what we call a "personal best"!
Practicality and Longevity
Golf calendars are not just about golf; they also offer practicality and longevity. Unlike a set of golf balls that might end up in a water hazard, or a golf tee that eventually breaks, the calendar stays with the recipient throughout the year, reminding them of your thoughtful gift.
Plus, it's a great wall décor item that adds a golfing charm to any room!
Suitable for Golfers of All Levels
Whether they're a seasoned pro or just starting to find their swing— the golf calendar is suitable for golfers at all levels. Its inclusive nature and wide appeal make it a go-to gift for any golfer. Because let's face it, love for golf knows no handicap!
Affordable and Accessible
The cherry on top? Golf calendars are affordable and accessible. They provide a budget-friendly option that doesn't skimp on thoughtfulness or relevance. Whether it's a
birthday,
holiday,
or just because,
a golf calendar is an anytime, perfect gift for the golfer in your life.
So there you have it — ten reasons why the golf calendar is the ideal gift for every golfer. Not only does it bring the world of golf to their doorstep, but it's also a gift that keeps giving, day after day, month after month.
So next time you're pondering over the perfect golfing gift, remember the golf calendar. You can thank us later!
Now, it's your turn to step onto the green and score a hole-in-one with this perfect gift. So, why wait? Explore and consider purchasing a golf calendar for the golf lovers in your life. They'll surely be over par — sorry, we mean, over the moon!