Calendars — often overlooked, yet our daily life-savers. A guide to our routine, a savior of our schedules, a decorator of our walls, and so much more! Now imagine if you could combine your love for The Walking Dead with this practical functionality.
Sounds killer, right?
Well, hold onto your hatchets, because we're here to talk about the Best Walking Dead Calendars that every undead enthusiast needs in their life.
Factors to Consider When Choosing a Walking Dead Calendar
Choosing the perfect Walking Dead calendar can be as tricky as surviving a zombie apocalypse (well, almost!). Our evaluation criteria might not include a zombie-killing ability, but we sure take several factors into account.
Design takes center stage—each image should resonate with the show's spirit, drawing you back into the post-apocalyptic world. Variety is essential, with a mix of artwork and images to keep things fresh.
Functionality is a must because what good is a calendar if it can't remind you about your aunt's birthday, right? Size and format options matter; after all, a calendar for the office cubicle might need to be subtler than one for your personal den.
And, of course, value for money is crucial—we love our undead obsession, but we want to be smart about it!
The Best 2024 Walking Dead Calendar: Daryl Dixon's Walking Dead Wall Calendar
If you're a fan of AMC's The Walking Dead ® and the legendary character Daryl Dixon, then the Walking Dead Daryl Dixon 2024 Wall Calendar is a must-have item for your collection.
This calendar takes you on a thrilling journey through the 12-month span of 2024—allowing you to relive the epic adventures and heart-pounding moments from the show.
One of the standout features of this calendar is its stunning visuals. Each month showcases a different image of Daryl Dixon, capturing his
ruggedness,
determination,
and survival skills.
From hunting and tracking to intense combat scenes, the calendar brings Daryl's character to life on your wall— It's like having your very own action-packed episode in your home.
The calendar is thoughtfully designed with a stapled binding, ensuring that each page stays securely in place throughout the year. Measuring 12″ high by 12″ long, it's the perfect size to fit seamlessly into any space.
Plus, the inclusion of moon phases adds a unique touch, allowing you to keep track of celestial events while keeping up with Daryl's escapades.
One of the standout benefits of this calendar is its extensive holiday coverage. It includes all major holidays from the
United States,
Canada,
the United Kingdom,
Australia,
and New Zealand.
So, no matter where you're located, you won't miss a beat when it comes to planning your celebrations.
Comparing this calendar to others in the market, the Walking Dead Daryl Dixon 2024 Wall Calendar stands out as a fan-favorite. Daryl Dixon's popularity in the series is undeniable, and this calendar captures his essence in a way that truly resonates with fans.
Benefits of Owning a Walking Dead Calendar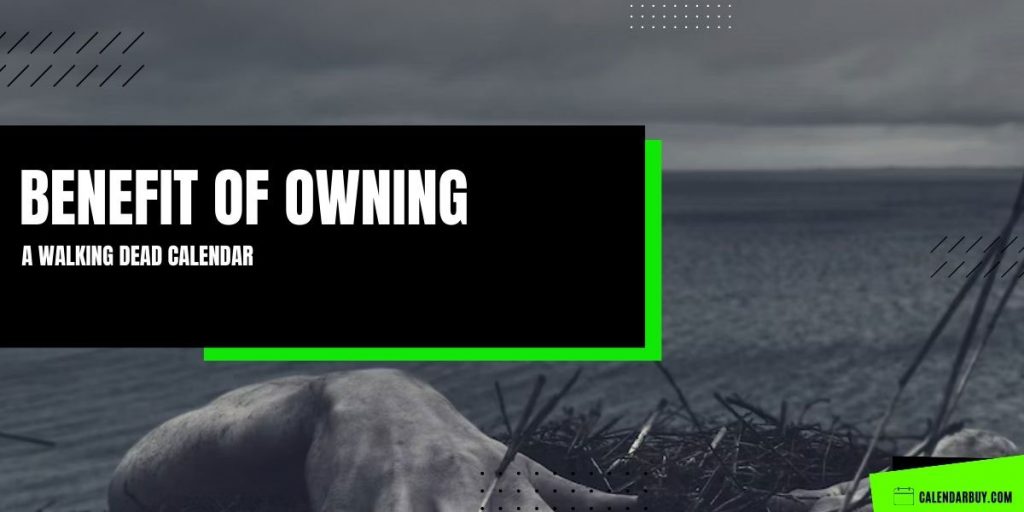 Owning a Walking Dead calendar is like having a daily dose of walker action. Beyond the practical use of reminding you about important dates and appointments, it serves as a fantastic fan tribute—adding a touch of undead charm to your daily life.
Having a Walking Dead calendar hanging on your wall (or standing on your desk, depending on your preference) enhances your fan experience and keeps the show's characters and moments close to your heart.
Also, the anticipation it brings! Waiting for the next month to uncover a new image is almost as suspenseful as waiting for the next season's premiere.
Buying Guide: Tips for Purchasing a Walking Dead Calendar
Before you grab your wallet and charge into the fray, here are some tips to guide your purchase. Consider the design—is it gritty enough for your liking? Evaluate the images—do they represent your favorite moments? Also, don't forget to ponder over the size and format—will it fit on your wall or desk?
As a pro tip, remember to check out recommendations based on different preferences or needs. Whether you're a fan of the ominous walker artwork or the brave survivor portraits, there's a Walking Dead calendar out there just for you!
Conclusion
As we wrap up our countdown of the best Walking Dead calendars for 2024, we hope you've found one that sends your heart racing with undead delight.
With so many awesome options out there, it might be hard to choose just one! But remember, the key is to choose a calendar that resonates with your personal preferences and unabashed love for The Walking Dead.
Here's to another year of living with our obsession and embracing the undead thrill! After all, the popularity of The Walking Dead isn't dying anytime soon, and neither should our excitement. So, keep calm and carry on walker watching!