Have you ever found yourself lost in the luscious curves, shining chrome, and classic charm of vintage cars?
Of course, you have.
Who hasn't been entranced by the timeless beauty of these automotive wonders? These old-world gems ignite a passion within us—a nostalgic love that transcends generations.
Now, imagine this – keeping that passion alive all year round with classic car calendars. These aren't just mere collections of images, oh no, they are gateways to the glorious past of the automobile industry.
As classic car enthusiasts— we cherish every opportunity to gaze upon these metal marvels. And what could be better than having an entire year filled with immaculate portraits of your favorite vintage vehicles?
In this blog, we're going to take you on a ride through the top classic car calendars that every enthusiast should have for the year 2024. 
The Classic Car Calendar Renaissance: From Faded Memories to Vivid Imagery
Remember the days when wall calendars were all the rage? Well, they're back, folks! Only this time, they're adorning the walls of
garages,
offices,
and man caves
around the globe with the allure of classic cars.
These calendars have made quite the comeback—and we think we know why.
The sheer joy of flipping over to reveal a new, stunningly photographed classic car each month is unbeatable – it's like having a mini car show in your room!
Why this renewed interest, you ask?
It's simple. Classic car calendars offer a tangible—year-round connection to automotive history. They showcase these magnificent machines in all their glory, fueling our admiration for classic design and engineering prowess.
It's a heartwarming trend that we are all too happy to see cruising back into style!
Criteria for Selecting the Best Classic Car Calendars
Let's get into the greasy stuff now. How do we go about selecting the best classic car calendars? After all, they are not created equal.
First up on our list is the quality of photography. A classic car calendar needs to have crisp—high-quality images that do justice to the fine details and unique attributes of each featured automobile. You want each image to transport you to a time when these cars ruled the road.
Second, variety. As much as we all love a '57 Chevy or a '66 Mustang, it's important to have a diverse collection of classic car models. This offers a broader perspective of automotive history and helps you discover lesser-known but equally stunning models.
The format of the calendar itself is equally vital. It should be user-friendly, with clear dates and spacious grids for noting down important events. Because, let's face it, even the most breathtaking picture of a classic car is no excuse for forgetting your anniversary!
Also, the cherry on top: additional features. These can range from
informative captions about each car,
historical facts,
trivia,
or even special collector's editions.
This extra layer of detail takes your calendar from a mere decorative item to an enlightening journey through automotive history.
[Top 11] Best 2024 Classic Car Calendars
With its impressive array of features and stunning imagery—this calendar brings a unique charm that will make you appreciate the beauty of abandoned cars and trucks.
Each month showcases a carefully selected, high-quality image that captures the essence of classic US cars. The use of light-resistant paper ensures that the vivid colors remain vibrant throughout the year.
Also, the robust spiral binding with a hanger makes it easy to hang the calendar on any wall—ensuring it stays in place throughout its use.
Now, let's talk about the calendar's captivating content.
Abandoned cars and trucks in the middle of nowhere take center stage, thanks to the talented author, Mike Kärcher. His ability to capture the haunting beauty of these forgotten vehicles is truly remarkable. Each month's image tells a unique story— transporting you to a different era and evoking a sense of mystery and awe.
View on Amazon.com
If you're a fan of American muscle cars, the American Muscle Cars 2024: 16-Month Calendar is a must-have addition to your collection. Bursting with stunning photography and featuring some of the most iconic and powerful vehicles from
the 1960s,
1970s,
and today,
this calendar brings the spirit of these brutish performance machines right into your home.
The selection of cars showcased in this calendar is truly impressive. From the legendary 1969 Camaro SS 396 to the modern powerhouse 2017 Dodge SRT Hellcat, the calendar covers a wide range of iconic models. Whether you're a fan of
Chevrolet,
Dodge,
Plymouth,
Pontiac,
or Buick,
this calendar has got you covered.
It's a fantastic opportunity to revel in the glory of high-performance cars from different eras—bringing together a rich tapestry of automotive history.
The photography in this calendar is simply breathtaking.
Each car is captured with meticulous attention to detail, showcasing their sleek lines, powerful engines, and undeniable presence. The images transport you to a time when these machines ruled the roads—evoking a sense of nostalgia and admiration for their design and engineering prowess.
You'll find yourself lost in the beauty of these vehicles, dreaming of the open road and the roar of their engines.
View on Amazon.com
If you're a fan of the all-American era of rock and roll and powerful muscle cars, this calendar is a must-have addition to your collection. With its twelve vivid paintings, this calendar brings back the nostalgia of the "glory days" when these iconic cars cruised past the drive-in on Saturday nights.
View on Amazon.com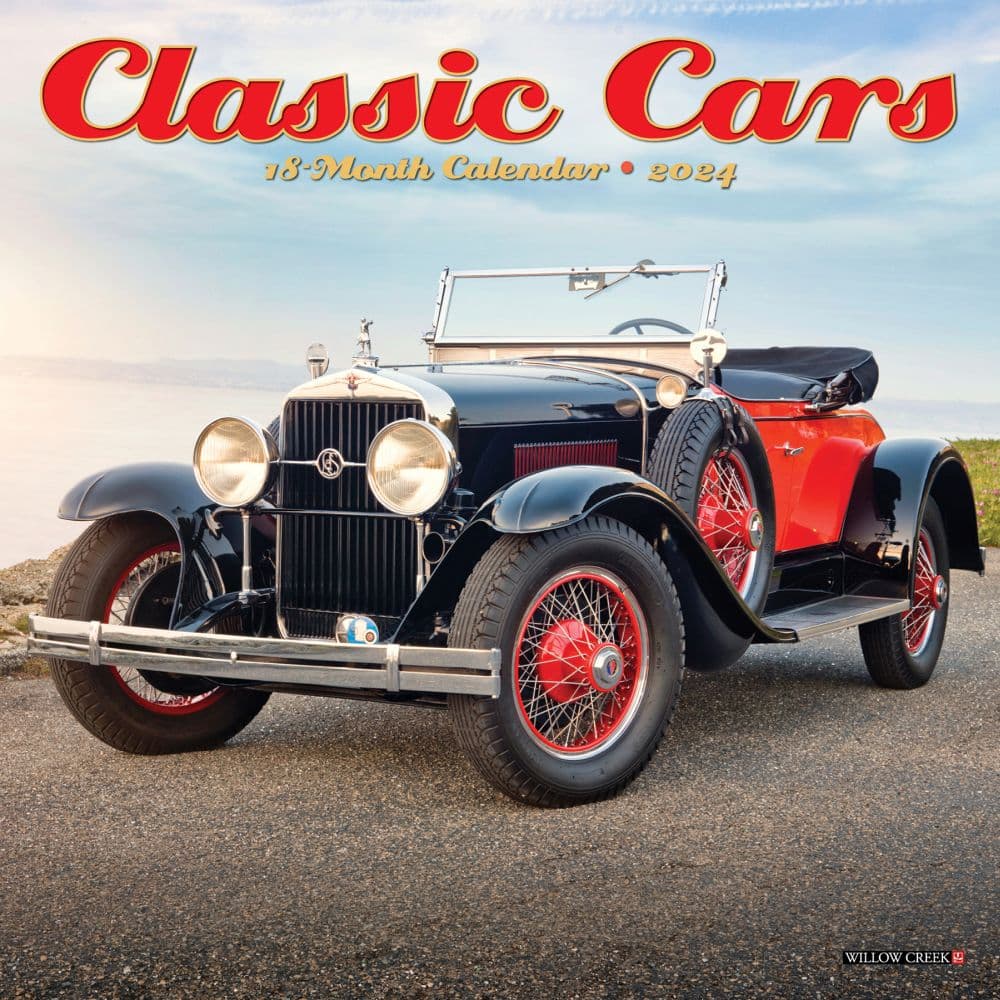 This calendar showcases twelve magnificent automobiles that prove beauty never goes out of style.

The first thing that caught our eye was the exquisite design of this calendar. The photographs beautifully capture the essence of each vehicle, showcasing the impeccable craftsmanship and attention to detail. The metallic shine and lustrous chrome featured in these twelve masterworks on wheels are sure to make any car enthusiast's heart skip a beat.
View on Calendars.com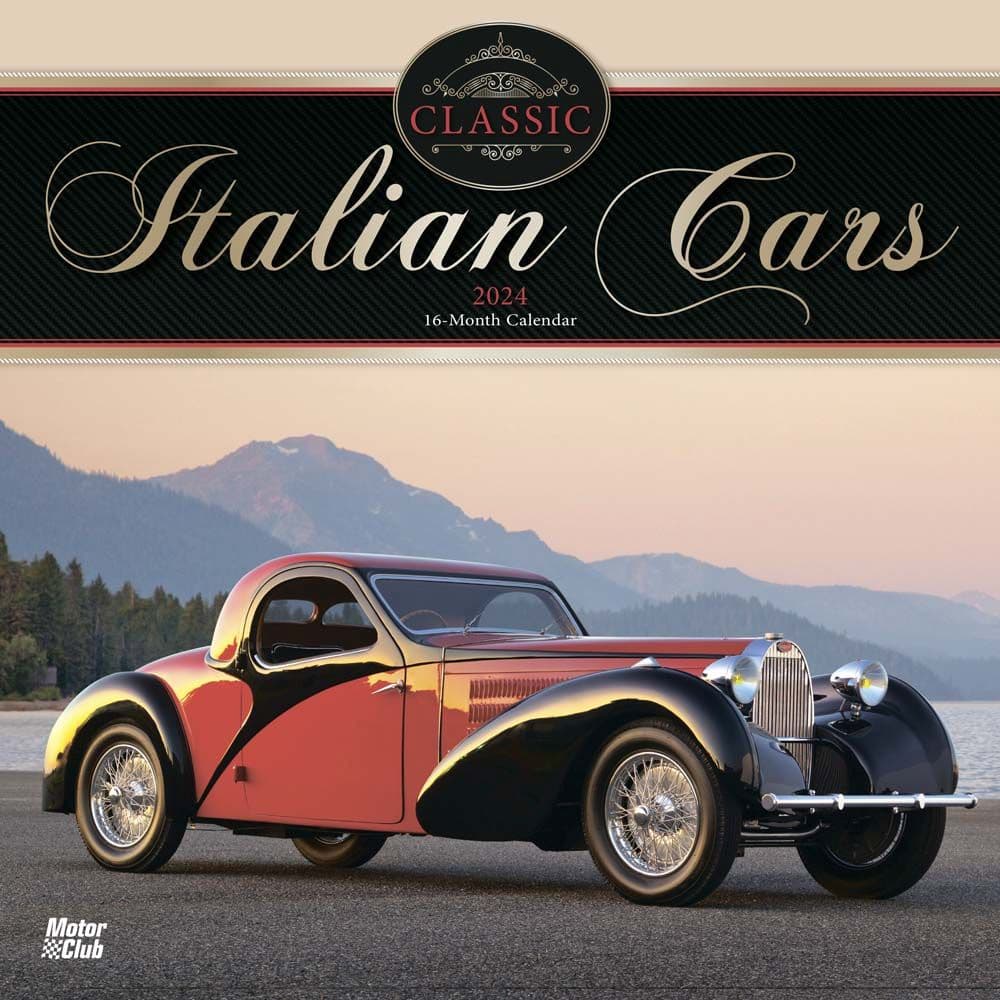 This calendar brings the essence of Italian automotive excellence right to your wall. Each month showcases a stunning collection of photographs featuring classic Italian cars in various breathtaking locales. The images transport you to places like
the Amalfi Coast,
the winding roads of Tuscany,
and the bustling streets of Rome,
creating a sense of wanderlust and adventure with every turn of the page.
Moreover, the Classic Italian Cars Motor Club 2024 Wall Calendar allows you to discover a different Italian car gem each month. From the iconic Ferraris that make your heart race to the breathtaking Lamborghinis that turn heads wherever they go, this calendar showcases the best of Italian automotive craftsmanship.
It's an opportunity to learn about these legendary vehicles and appreciate the artistry and engineering behind them.
View on Calendars.com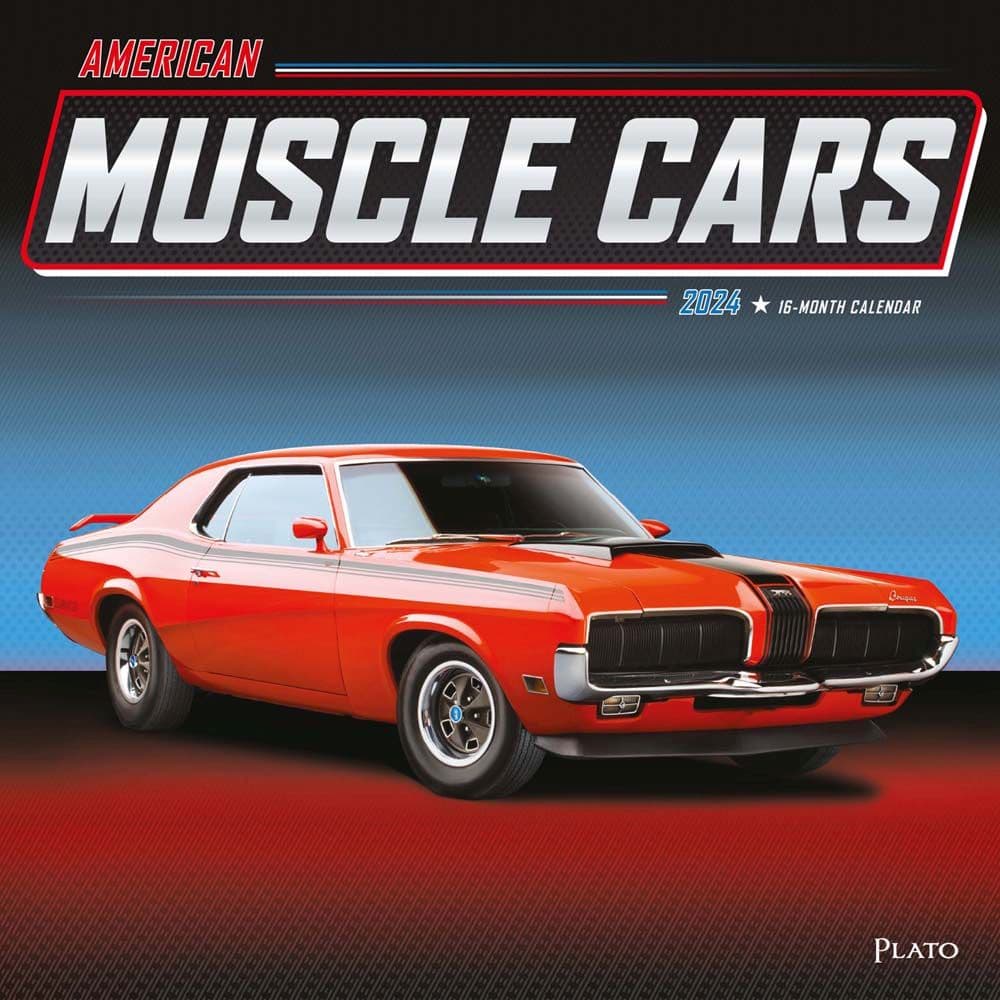 This calendar captures the essence of an essentially American phenomenon - hot rods that combine the timeless elegance of classic car silhouettes with jaw-dropping horsepower and exhilarating performance engines.
Each month, you'll be treated to stunning photography that showcases the sheer beauty and power of these muscle car favorites.
Whether it's a gleaming Mustang in the urban jungle or a roaring Camaro tearing up the open road—the images in this calendar truly capture the spirit and allure of these legendary vehicles. The calendar also features different locales—adding an exciting touch of variety to each month's display.
View on Calendars.com
This calendar showcases a stunning array of collectible cars from the iconic era of the 1950s, allowing you to relish in the timeless charm of these classic automobiles all year round.
View on Calendars.com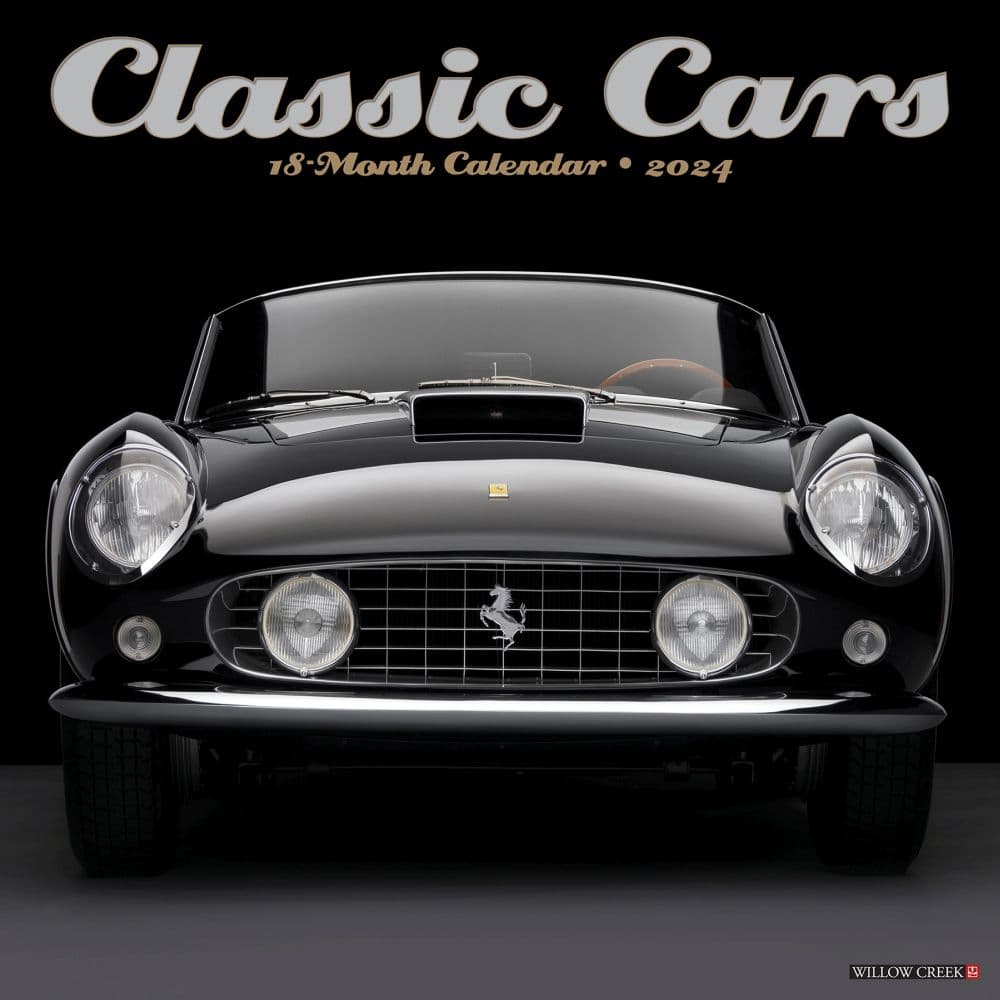 Each of the twelve automobiles showcased within its pages exudes a timeless beauty that proves style never fades away. The graceful curves and timeless lines, masterfully imposed upon metal and chrome, truly transform these cars into twelve works of art on wheels. Whether you're a fan of vintage classics or simply appreciate automotive craftsmanship, this calendar brings a sense of wonder and admiration into your daily life.
View on Calendars.com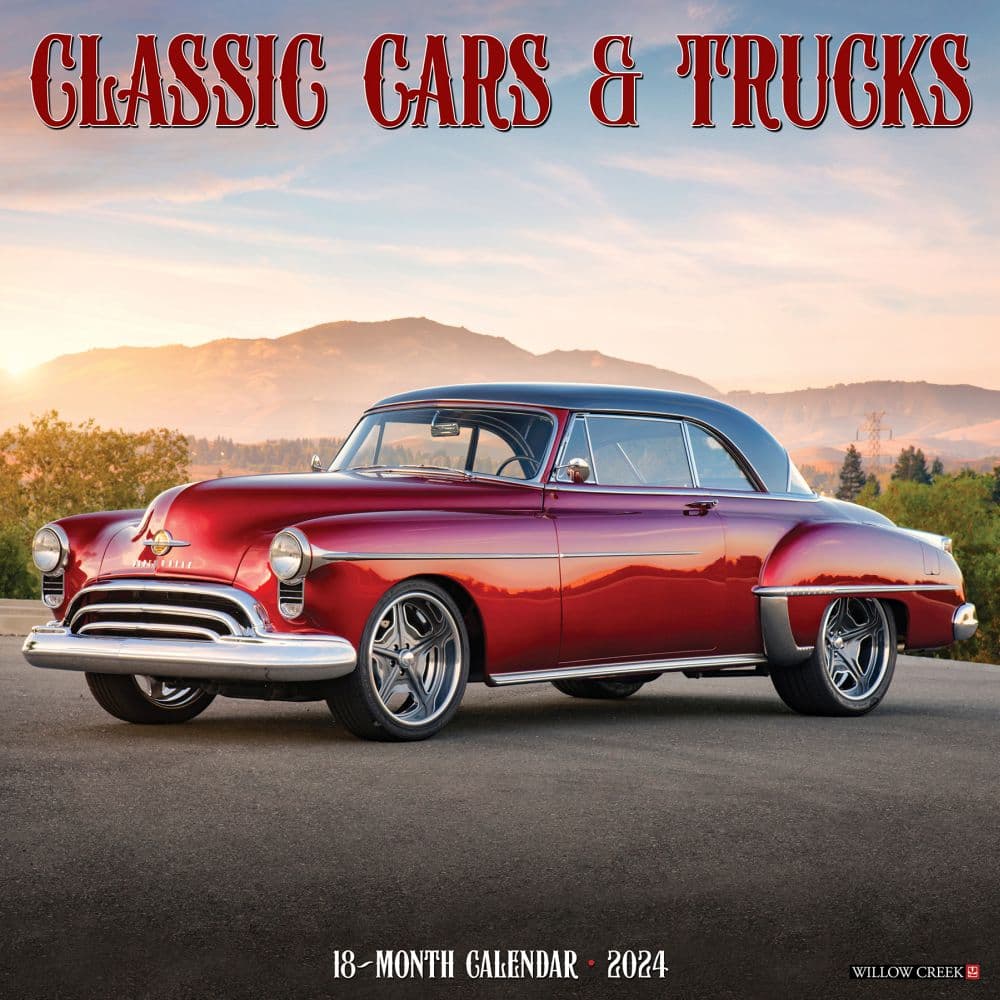 Comparing this calendar to others in the market, it stands out for its exceptional design and attention to detail. The curated selection of classic automobiles and pickup trucks sets it apart from generic car calendars that lack personality. The combination of
aesthetic appeal,
functionality,
and eco-conscious printing
makes this calendar a top choice for car enthusiasts of all ages.
View on Calendars.com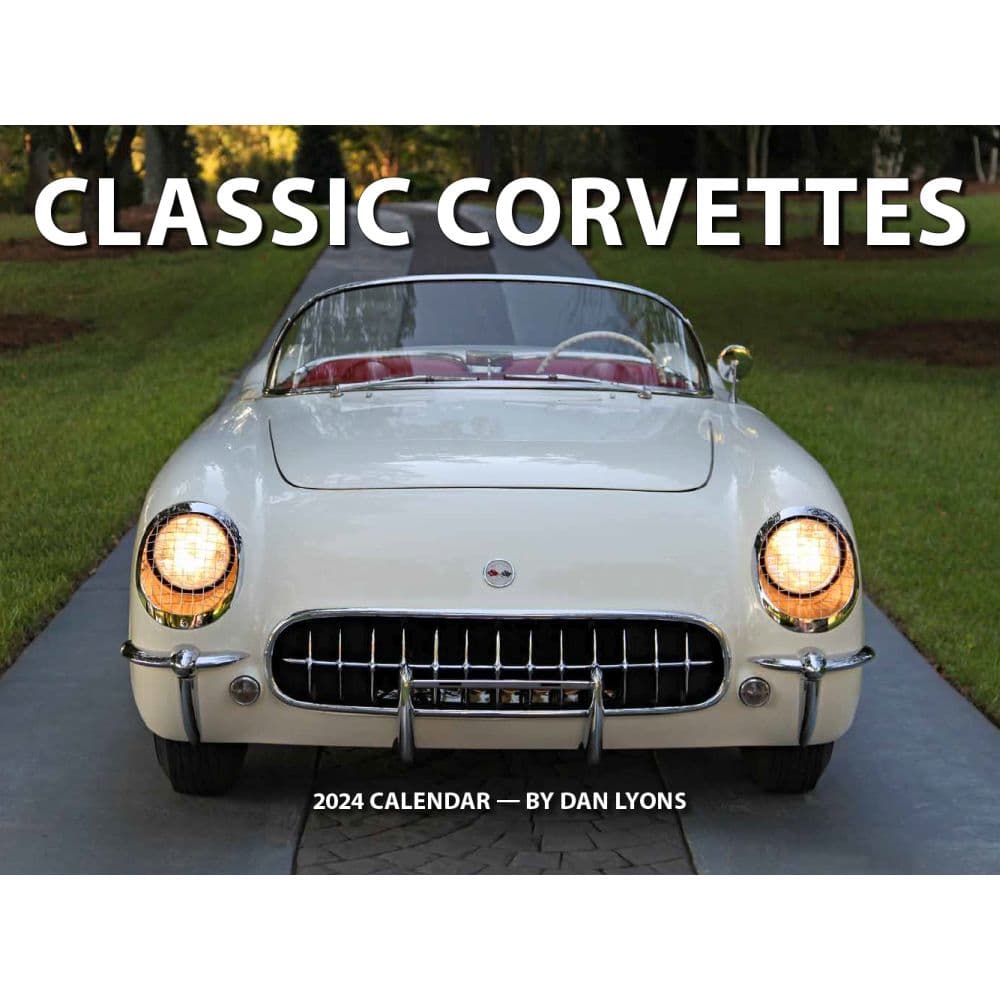 The slick images of different Corvette models from across the years are truly a feast for the eyes. Each photograph captures the beauty and power of these iconic vehicles, making it a treat for any car enthusiast.
View on Calendars.com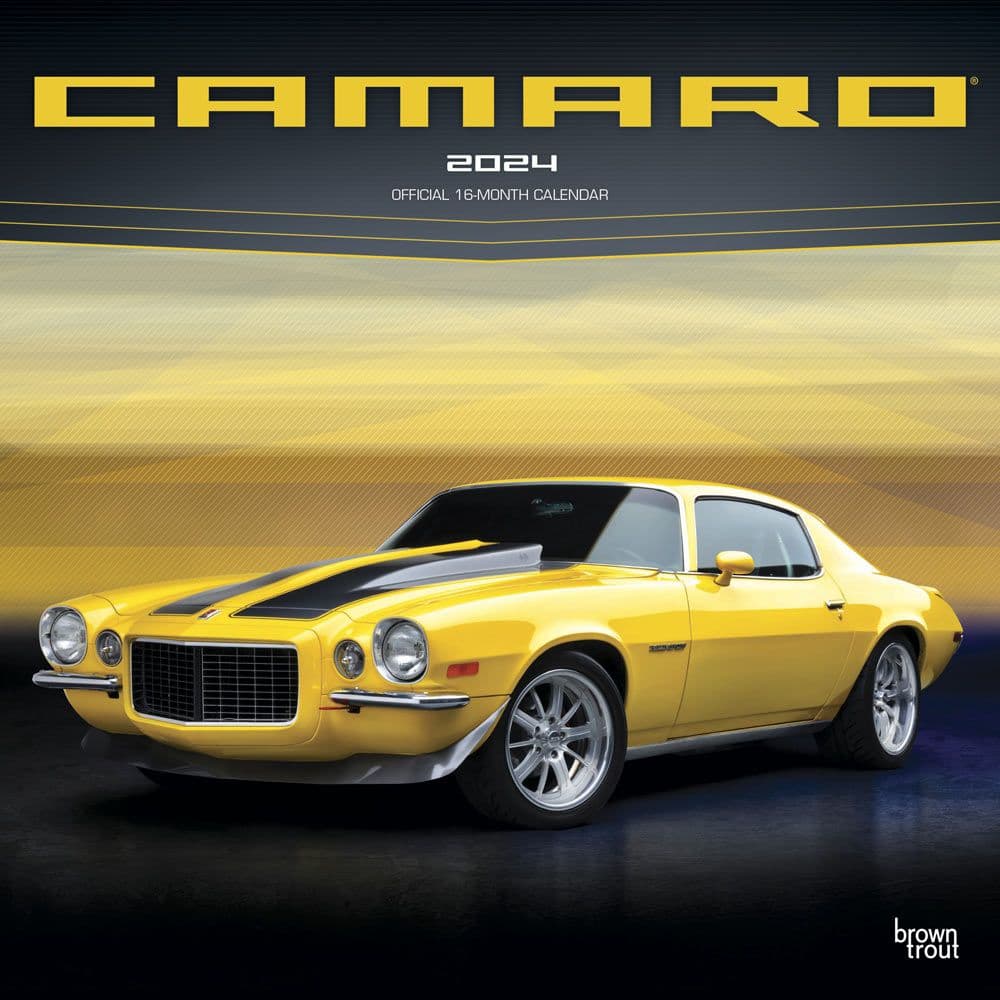 This calendar beautifully captures the essence of Camaro's timeless appeal, bringing the excitement of these speed demons right into your living space. From classic designs that harken back to the old school to the sleek and powerful modern iterations, this calendar showcases the best-looking cars on the block.
View on Calendars.com
Shifting Gears: The Benefits of Classic Car Calendars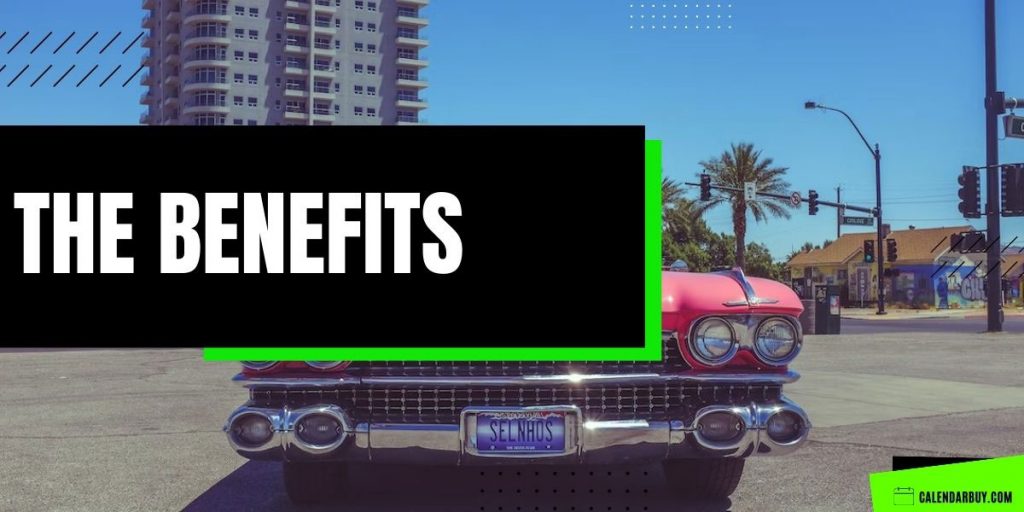 So, why should you invest in a classic car calendar? Well, apart from the obvious appeal of stunning visuals that bring the charisma of vintage automobiles to life, these calendars serve multiple functions.
They provide daily inspiration and motivation for classic car enthusiasts, adding a spark of joy to your routine. Imagine starting each day with a beautifully captured image of your favorite classic car staring back at you – that's some high-octane inspiration!
Not only that, but these calendars also serve as a practical organizational tool. They help you keep track of important dates and events.
And who said you can't mix business with pleasure?
Moreover, a classic car calendar is a unique decorative element, a conversation starter. It could seamlessly blend into any space, from your garage to your office—adding an instant touch of class and vintage appeal. Talk about style!
How to Choose the Perfect Classic Car Calendar for You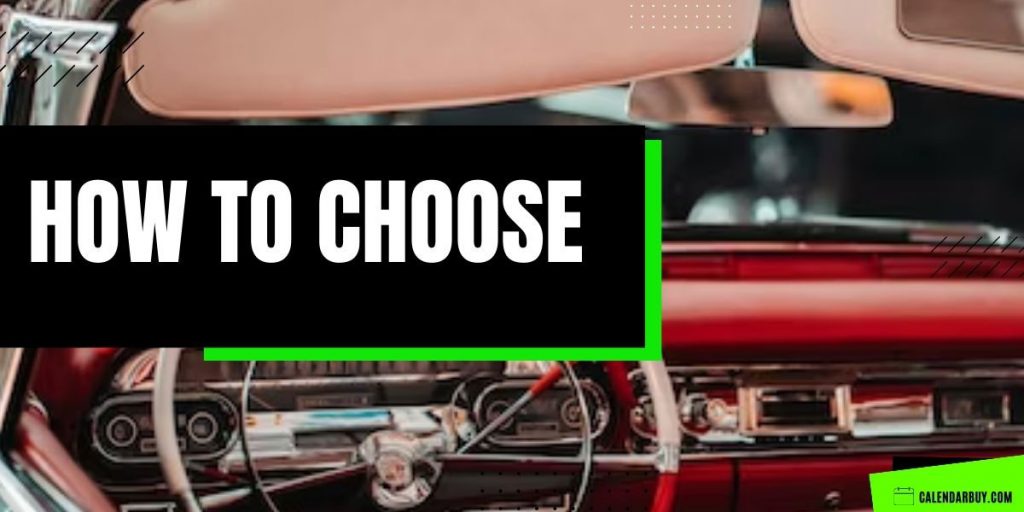 Choosing the perfect classic car calendar isn't rocket science, but it does require a bit of thought.
Your personal preferences play a key role.
Are you a fan of European classic cars or more into American muscle? Do you have a soft spot for a certain era? Go for a calendar that resonates with your personal taste and it will never disappoint.
Remember, reviews and ratings are your friends. Scour the web for feedback from fellow classic car enthusiasts. Their insights could be instrumental in making an informed choice.
Last but definitely not least, let's talk money. Compare prices and availability to ensure you're getting a good deal. The best calendars might sell out quickly—so keep an eye on your favorites!
Conclusion
Classic car calendars are more than just a collection of pretty pictures. They are a testament to the allure of classic cars— a celebration of their timeless beauty and rich heritage.
For enthusiasts like us, they serve as a daily source of inspiration, fueling our passion for these marvelous machines.
We hope this guide helps you navigate the vibrant world of classic car calendars. So why wait? Rev up your engines, and start exploring the recommended calendars.