You're probably no stranger to the worldwide sensation that is BTS.
These seven charismatic individuals have not only topped charts globally, but they've also captivated our hearts— making us part of the global fandom that we proudly called the ARMY.
We all know that calendars aren't just pages that tell us the date. For ARMYs, they are treasured collectibles! BTS calendars allow us to keep track of time while being greeted by the dazzling smiles of the idols.
And let's face it, we all have that one friend who's asked, "What day is it today?" Just to have an excuse to flip open our BTS calendar!
So, buckle up, dear ARMYs, because we're about to delve into the colorful universe of the best BTS calendars for 2023!
Why BTS Calendars are a Must-Have for ARMYs
What ties an ARMY to BTS is not merely the catchy tunes or dazzling performances — it's a bond that's
emotional,
profound,
and personal.
Owning a BTS calendar feels like having a daily connection with these seven talented souls.
Let's admit it, we've all felt that giddy excitement when a new BTS calendar is revealed, haven't we? The anticipation of turning a page to reveal a new picture, quote, or a special message from BTS can make even mundane days feel like an adventure.
Criteria for Selecting the Best BTS Calendars
If you've ever seen a BTS calendar, you'll know that every image is a masterpiece. The quality of photos matters to us! We want our calendars to capture the charm and aesthetics of BTS in high resolution. Each click should showcase
their personality,
their style,
their unique flair.
A great BTS calendar is not just about the photos — the design and layout play a vital role too. An engaging calendar design keeps us enthralled all year round. Also, who doesn't love showing off a stylish calendar to fellow ARMYs?
But let's not forget about authenticity! Official merchandise holds a special value. It's like a stamp of approval from our beloved BTS.
When choosing a BTS calendar, consider factors such as
design,
calendar format (wall calendar, desk calendar, planner, and so on),
size and layout,
whether it's official or unofficial merchandise,
and look out for special features like behind-the-scenes photos and inspiring quotes.
Countdown to the Best: Top 4 BTS Calendars for 2023
This calendar is not just a mere collection of dates; it's a visual masterpiece. Each month features high-quality photos of BTS that will make your heart skip a beat. From their energetic performances to their soulful gazes, the calendar captures their charisma perfectly.
It's like having a personal photoshoot with BTS every day of the year!
What truly sets this calendar apart is the official license from BrownTrout. With their commitment to quality, you can be assured of an authentic BTS experience. The crisp images and durable construction ensure that this calendar will stand the test of time—accompanying you through the year with its unwavering charm.
Comparing it to other K-Pop calendars out there, the BTS OFFICIAL 2023 Calendar truly takes the crown. The variety of genres the Bangtan Boys cover is reflected in the diverse collection of photos.
It's a visual journey that encapsulates the essence of BTS's artistic evolution.
View on Amazon.com
One of the standout features of this calendar is the captivating photography.
Each month presents you with stunning—full-color photographs of the Bangtan Boys. The images truly capture their dynamic energy and irresistible charm, making it a delightful visual treat for any BTS enthusiast.
With every flip of the page, you'll find yourself immersed in their world— eagerly anticipating the next month's photo surprise.
Beyond its eye-catching visuals, this calendar is built to last. The durable construction ensures that the paper resists curling and ink bleed-through, maintaining its pristine appearance throughout the year.
Moreover, this calendar offers practicality and value. With a 16-month layout, including a bonus spread of the final four months of the preceding year, you can start planning ahead right away.
View on Amazon.com
The standout feature of this calendar is the inclusion of a variety of different styles of photo cards. It's like having a mini-gallery at your fingertips— allowing you to personalize your calendar and satisfy all your aesthetic desires.
Also, with the presence of the legendary Bangtan Boys:
Rap Monster,
Jin,
Suga,
J-Hope,
Jimin,
V,
and Jung Kook
each passing month will bring a smile to your face.
While there are indeed numerous Bangtan Boys merchandise options out there—the Bangtan Boys New Album Desktop Calendar Monthly Planners truly stands out. Its high-quality construction and attention to detail set it apart from the competition.
This gift set is perfect for Army boys and girls, making it an ideal choice for those who want to show their unwavering support for their favorite K-pop group.
View on Amazon.com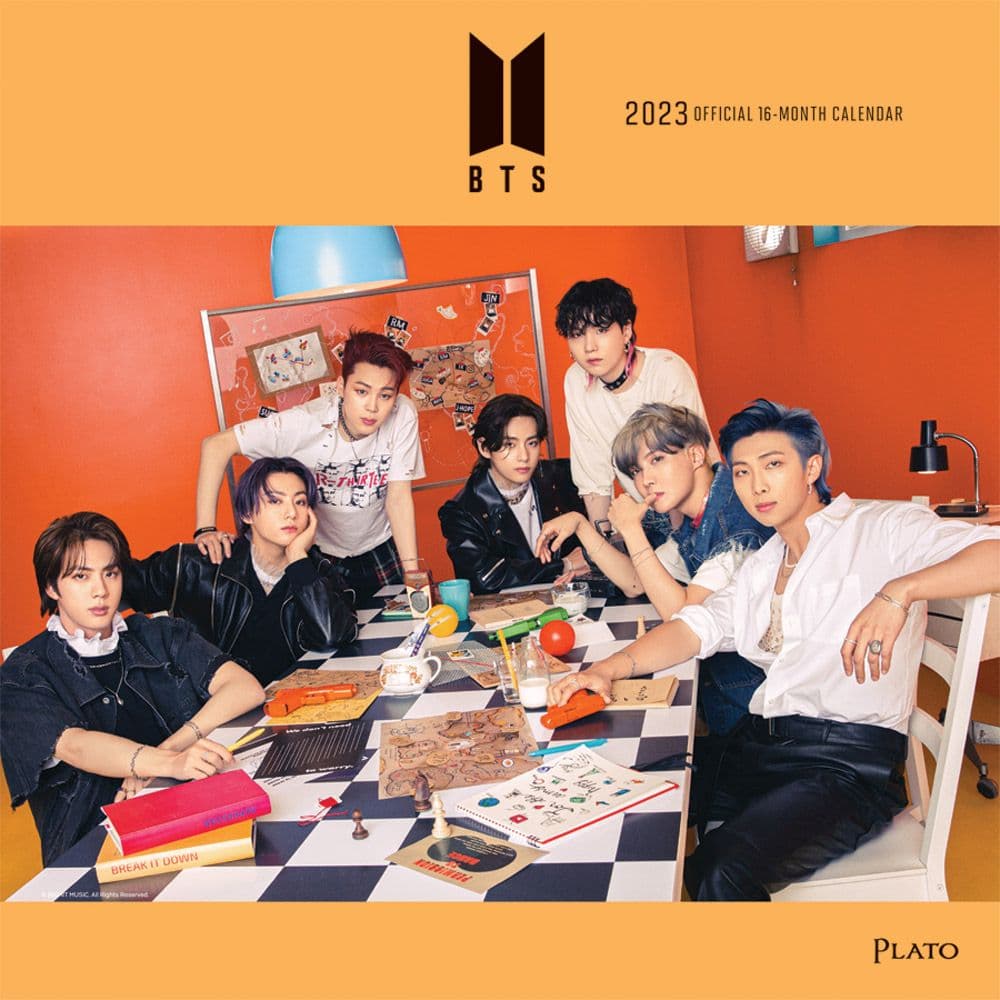 Each month on this calendar presents us with a visual feast—showcasing the members of BTS in all their glory. From energetic performances to candid shots, these high-quality photos truly bring the boys to life.
It's like having a front-row seat to their incredible journey!
The calendar itself is thoughtfully designed, with a 16-month layout that spans from September 2022 to December 2023. This gives us ample time to enjoy the beautiful images and stay organized throughout the year.
View on Calendars.com
Tips for Choosing the Perfect BTS Calendar
In your quest to find the perfect BTS calendar, remember to choose a design that resonates with your personality.
Consider the size and layout. Do you need a desk calendar for quick date checks, or do you prefer a wall calendar for that larger-than-life BTS experience?
Consider the design aesthetic. Do you prefer minimalistic designs or something vibrant and packed with BTS charm? Don't forget to check how the calendar fits with your personal scheduling systems.
And lastly, who can resist those extra goodies? Stickers, special artwork, or exclusive content could turn a great calendar into your perfect calendar!
Tips for Using and Enjoying Your BTS Calendar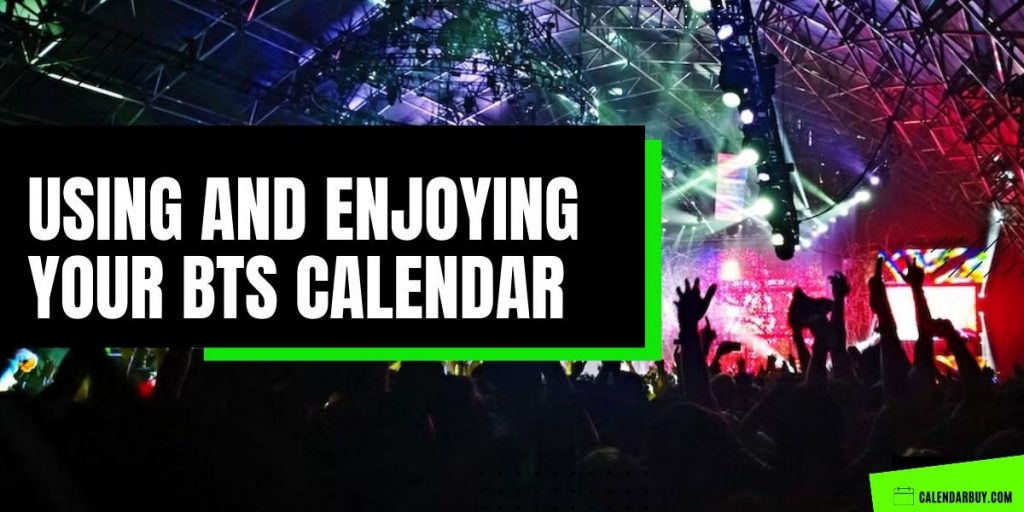 Once you've got your hands on the perfect BTS calendar— it's time to make the most of it! Mark those important dates — from birthdays and anniversaries to BTS comeback days (yes, those are holidays in our book!).
Don't forget to share your beautiful BTS calendar on your favorite social media platforms. After all, joy shared is joy doubled! Why not try to incorporate your calendar creatively in your daily life—such as using it as a wall decor or a centerfold in your bullet journal?
Conclusion
In the world of an ARMY, BTS calendars are more than just date-keepers. They are a daily dose of inspiration—a way to feel connected to BTS and the ARMY community.
We hope this guide helps you navigate your way to your perfect BTS calendar for 2023. And as we sign off, let's take a moment to thank BTS for their
amazing music,
inspiring influence,
and for simply being a part of our lives.